Relaxation Download
http://www.michelelazarus.co.uk/upload/Michele-Lazarus-Demo.mp3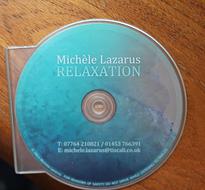 This link will take you to my free download. The relaxation lasts for just over 30 minutes and will help you sleep if you listen to it in bed every night. You might find you fall asleep very quickly or drift with your own thoughts and that's fine.
If you listen to it in the day, be sure not to listen whilst driving!
This link doesn't provide an alternative to hypnotherapy although it will allow you to 'self-hypnotise'.
If you like it, please pass it on to others.
Useful links
Association for Solution Focused Hypnotherapy


http://www.afsfh.co.uk/

Stroud Hypnotherapy Practice http://www.stroudhypnotherapy.com/
https://www.facebook.com/stroudhypnotherapy
National Council for Hypnotherapy(NCH)


http://www.hypnotherapists.org.uk/
Complementary Natural Healthcare Council (CNHC)


http://www.cnhc.org.uk


Dario Travaini - Mindfulness
http://themindfulnesspractice.org/
Cotswold Health Centre
http://www.chchealth.co.uk/Pages/default.aspx
Michele Lazarus Hypnotherapy on Facebook
www.facebook.com/michelelazarushypnotherapy
Michele Lazarus Linkedin
http://www.linkedin.com/pub/michele-lazarus/21/160/91a
Cirencester Hypnotherapy Centre
http://www.cirencesterhypnotherapycentre.co.uk/
https://www.facebook.com/CirencesterHypnotherapyCentre
Helen Cooke Nutritionist